Title:
It's Very Rude of Him, She Said (Part 32 of
To Talk of Many Things
)
Authors:
mga1999
and
skyblue_reverie
Fandom & Pairing:
Star Trek Reboot (aka AOS, ST XI, etc.), Pike/McCoy
Rating:
PG-13ish (for bad words :O)
Spoilers:
None
Warnings:
None
Word Count:
Around 4700
Summary:
The correspondence and personal journals of Christopher Pike and Leonard McCoy.
A/N:
From
skyblue_reverie
: Here's the (first) Jim part, early, just for you guys who will be without internet and/or who bribed us with virtual cheesecake. YOU KNOW WHO YOU ARE. ;) From
mga1999
: The 116 degree heat has melted my brain. What is this supposed to be?
Click on the gorgeous banner by the awesome
fanarts_series
for series masterlist with links to all prior parts: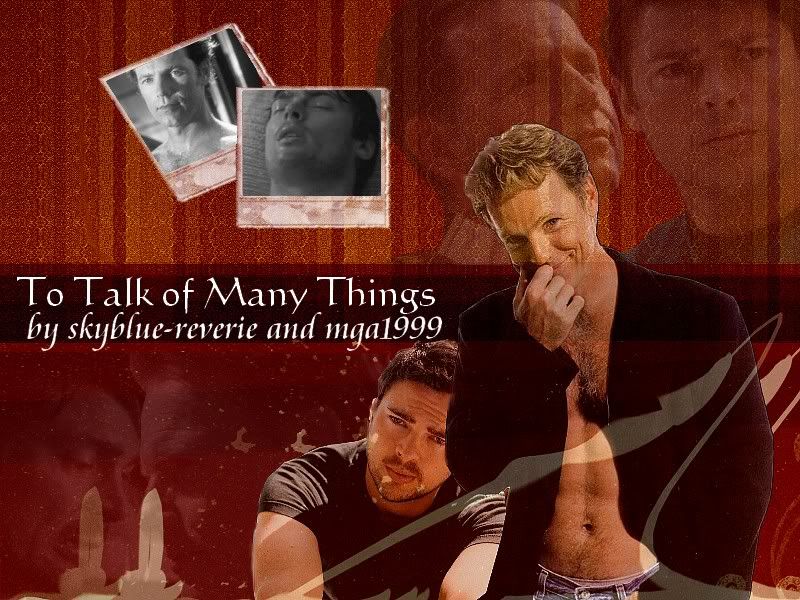 To: Christopher Pike (cpike@starfleet.gov)
From: Leonard McCoy (lmccoy@starfleet.gov)
Chris:
Goddamn it, your goddamn therapist, the one who calls herself a couples counselor, is responsible for the shit that's been going on with Jim. I swear to god I'm going to have her license for this. She actually told Jim that his friendship with me was "dysfunctional" and that he needed to back off for the sake of my relationship with you. Can you believe that bullshit?
I want to throttle her -- giving any "advice" or even worse, goddamn
commands
, is not what therapists are supposed to do, and especially not to someone who's not even her patient. I can't believe she had the unmitigated gall to instruct Jim to distance himself from his best friend when she doesn't know what Jim's psychological background is. It's the worst thing she could have done to him, and he's been in hell.
Since you're officially her patient, I'll need you to be the one to file a complaint against her. I can write it up, though, put in all the technical terminology to make sure she never practices again. She shouldn't be allowed to fuck with anyone's head the way she did Jim's, and I'm going to make sure she never does again.
I'll comm you later and we can talk about it.
Love,
Len
Personal Journal of Leonard H. McCoy
Thursday 2260.186
I can't remember when I've ever been this angry. Chris's goddamn "couples counselor" is responsible for Jim's behavior over the last several months. When she vidcommed with him, way back in February, she actually told him that his friendship with me "might be a little dysfunctional" and that it might be in everybody's best interest, especially mine and Chris's, if he gave me some space.
She had absolutely no right to do that. She doesn't know the first thing about Jim, about his needs and his background and how screwed up he is about relationships. I'm practically the only person in his life that he trusts, and Chris is another, and to have this incompetent hack tell him that he had to let us both go is the worst, the goddamn
worst
thing she could have done.
I've never seen Jim's eyes as wide as when I let loose with what I thought of her and her "advice" after he finally 'fessed up as to why he'd been pulling away. He was actually trying to defend her, said maybe she was right. Unbelievable. He said it was his fault that he interpreted her words the way he did and tried to cut me out altogether.
It's not his fault, though, and if she'd had the first clue about Jim's psychology, she would have known he'd react that way. Of course, she didn't, because she didn't bother to find out before she told him that his friendship with me was actually hurting me. As if I'd
ever
actually want Jim to pull away from me, much less "for my own good." All she did was give credence in Jim's mind to his feelings of worthlessness and trigger his goddamn noble, self-sacrificing streak. She shouldn't be permitted to practice, and I'm going to make sure she doesn't. I've already commed Chris - he can file a complaint against her with my help that'll get her up before the ethics board before she can blink. With testimony from all three of us, they should pull her license. God help 'em if they don't.
There's more to Jim's behavior -- some jealousy about Chris's and my relationship, feeling like he'll never have something like that, insecurity over his place in my life now that I'm with Chris. Nothing we can't work out if he would actually talk to me instead of clamming up. Which I told him, in no uncertain terms.
I'm too pissed off right now to focus on anything else, so I'm going to sign off for now. I think I'm going to go for a run. I need to burn off some of this anger or I'm liable to take it out on everyone around me, and right now that's Jim. That's the last thing he needs right now.
To: Leonard McCoy (lmccoy@starfleet.gov)
From: Christopher Pike (cpike@starfleet.gov)
Len:
Now wait a minute. Before you go off on one of your tirades and ruin someone's career, stop and think for a moment. You've only heard Jim's side of the story and you
know
how he can be. I think it's only fair to hear what Dr. Elliott has to say. Since she records all of her sessions, there is proof of what was really said. She is one of the top couples counselors on Earth. Heck, people come from other worlds to hear her speak at her seminars. Dr. Rossen recommends her highly.
I know you never liked her, but I trust her. Maybe she's right. And like you said, with Jim's psychological background -- I think after you calm down and find out what really happened, you'll think differently.
I just tried to comm you, but you didn't answer. I just finished lunch and the rest of my day is completely booked until 2100. I will comm Dr. Elliott right now and ask for a copy of that session -- Of course, Jim will have to give permission -- My guess is he won't agree since he knows what the truth really is.
Don't do anything impulsive, Len. She's a highly respected therapist and it wouldn't look good for you to file an unwarranted complaint.
Please. Consider your career and how something like this would be dragged all over the press.
Dammit, I don't have time to worry that you're going to go off and do something while you're half-cocked. I have to run. I was due in a meeting with the other Admirals five minutes ago. We'll talk tonight. Why don't you take a walk so we can talk privately around 2200.
Miss you,
Chris
To: Christopher Pike (cpike@starfleet.gov)
From: Leonard McCoy (lmccoy@starfleet.gov)
Chris,
You've got to be fucking kidding me. I know how Jim can be? What the hell does
that
mean? And you doubt that Jim will give permission to release the recording of the session because you think it won't support what he told me? You just accused Jim of lying. You, who used to love Jim like a son, who was one of the few people on earth who believed in him, just told me that he's a fucking
liar
. I don't even know what to say to you right now.
And your concern in this situation is what the goddamn
press
will say if they hear about it? Your priorities are so screwed up I don't even know where to begin.
I wasn't going to go off half-cocked and of
course
I was going to listen to the session before I took any action -- I need to know exactly what that quack's words were so I can shove them up her ass. But unlike you, I know damn well that when I listen to that recording it's going to confirm exactly what Jim told me. I can't fucking believe that I have to defend Jim to you.
I take that back. Of course I can believe it. It's your goddamn jealousy getting the better of you again. Well let me tell you this: if you think I'm going to back off from supporting Jim because you're in another snit over my friendship with him, you've got another think coming.
I don't think it's a good idea for us to talk right now. I was out for a jog earlier when you commed, trying to calm down, but that's just been blown out of the water. Don't bother comming me tonight. I won't pick up anyway.
Len
To: Christopher Pike (cpike@starfleet.gov)
From: Leonard McCoy (lmccoy@starfleet.gov)
Chris:
Here's a signed authorization from Jim and I to release any of the sessions we had with Dr. Elliott. You'll need to sign it too, obviously. Does this make you rethink your ridiculous accusations against Jim?
In case you were wondering, I told Jim I needed it to build a case against her with the ethics committee. I
didn't
tell him that you needed it for confirmation before you'd even believe him. The last thing he needs right now is to know that you think he's a damned liar.
Len
Attachment: Authorization to Release Confidential Medical Information
To: Leonard McCoy (lmccoy@starfleet.gov)
From: Christopher Pike (cpike@starfleet.gov)
Oh come on, Len. Aren't you overreacting? I don't have the time to deal with this. I've signed the authorization form and forwarded it to Dr. Elliott. I also asked her to comm me after 2100 if she has the time. You're lucky Admiral Archer has such a weak bladder or I wouldn't have even been able to forward it and reply to you. I have to go back in now. I
will
comm you tonight and we
will
discuss this.
To: Leonard McCoy (lmccoy@starfleet.gov)
From: Christopher Pike (cpike@starfleet.gov)
Len,
Since I've been calling for an hour, and neither you nor Jim will pick up, I'm hoping you'll read this.
First of all, let me just say that I'm sorry. I could make a bunch of excuses that I was busy and don't think well about things like this when I'm rushed -- You wouldn't believe the shitstorms in the Admirals' meetings today. But you
know
that about me. At least, I hope that you would by now.
I wasn't calling Jim a liar, Len. I simply meant that Jim has his own way of interpreting things compared to most. You
know
that. That's what I meant. He could be right, but he also could be wrong. Do I want him to be wrong? No, of course not. Sure, I'll be honest, there is part of me that does, but not for the reasons you might think. If he's not wrong, Len, then this is all my fault.
I
caused all the tension between you two, all the worry you've had over him. Me. My fault. And yes, it would be my fault that Jim has gone through all he has the last four months. That's a lot to swallow. You know I would never intentionally cause hurt to either one of you. But damn, it seems that's all I do sometimes.
If I had been able to talk to you, I would have told you that I talked to Richard last night at the party. We took a walk, and then sat on a bench by the water. I actually
talked
to him, Len, and told him some of my issues with Jim and a few other things. It helped. He had some great advice, yet what do I turn around and do less than twelve hours later? Fuck it all up as usual.
You wonder why I'm not close to other people? Well, this is the reason. I'm not good with emotions, or thinking before I speak or act. I just react, Len. In a tactical situation, it works to my advantage. In a personal one -- Well, it doesn't work very well. You may yell and scream, but at least you are still thinking with your heart. Sometimes, I'm not even sure I have one. I think at times that you are the only reason I'm even human.
It's almost midnight and I'm tired. I'm drunk. I have meetings starting at 0500 tomorrow with Starfleet Intelligence, inspection of the repairs of the Exeter in the afternoon, and then more meetings, the last ending at 2200. I do have a long lunch scheduled with Richard. I'm going to keep my comm off most of the day so I don't do something stupid again. But I'll turn it on during lunch if you decide to reply. I won't have it on voice though, as it will unfortunately be a working lunch.
I love you, Len. Again, I'm sorry.
Chris
Personal Journal of Christopher R. Pike
Thursday 2260.186
Fuck. This might be my shortest entry yet. I'm tired. I've had too much wine. I screwed up today with Len. At least I'm consistent in my failures with him. And this time I've managed to fail Jim too.
I could sit here and write a post-mortem but I'm not going to.
I am more than tempted to clear my schedule and beam over there tomorrow, but I know that would probably only make things worse.
I need to just wait. At least I hope that's the right thing to do.
Fuck.
I'm going to have another glass of wine or maybe open another bottle. I doubt I'll be sleeping tonight, but I'm going to try. I'll need my wits tomorrow to deal with the asshats in Starfleet Intelligence.
Personal Journal of Leonard H. McCoy
Friday 2260.187
Chris and I just had yet another blow-out fight over Jim. Will we ever be able to get past this issue? Is there something I should be doing differently, or is the fault on Chris's side? God damn it, I hate this. My ring's sort of a muted yellow-brown, almost like a topaz. I'm not sure what that means Chris is feeling, but judging from our correspondence, it isn't anything good.
Anyway, it's a good thing I shut off my comm unit for the day after I sent Chris that authorization form yesterday. If I'd read his first comm in response, I would have lost it completely. I almost did this morning when I read it, but then luckily I read his second comm right afterwards and it calmed me down. Oh, who am I kidding, it melted me. He admitted he was drunk when he wrote it though, and I'm not surprised, because I can't imagine him saying those things without some substantial lowering of his inhibitions. Of course, with all the meds he's on, he could have put himself into a goddamn coma by drinking that much. But he knows that as well as I do, and he's made it crystal clear that he doesn't want to hear from me about his health, so I'm going to bite my tongue.
I'm not buying his line about not thinking Jim was lying, though. He did. He didn't think it was a misunderstanding. He said that he'd bet that Jim wouldn't give authorization because Jim knows "what the truth really is." He was saying that Jim was telling me something that wasn't true, and that Jim knew it wasn't the truth and would take action to cover it up. In my book, that's lying. He actually thought Jim was lying. That upsets me more than anything, because it means the trust between them is broken. Shit. And here I thought they were repairing their relationship.
I didn't tell Jim that Chris didn't believe him, but Jim did ask me yesterday how Chris had reacted when he'd heard what Elliott said, and I had to hedge. I told him that Chris wanted some time to think about it and wanted to hear the session before he decided what he wanted to do. But Jim's a goddamn genius and far too perceptive for his own good, and I think he knows that Chris doubted him. He just kind of nodded though, didn't say anything.
Shit. At least Jim and I are talking again. Last night, by mutual unspoken agreement, we didn't talk about any of this crap with Elliott. We talked about how he's feeling about his captaincy, two years in, what he thinks he's doing right and wrong, his assessment of the strengths and weaknesses of some of his crew. I'm one of the only people he can talk to about things like that, since I'm not part of the bridge crew, not really in that chain of command, and he knows I'll keep my mouth shut about anything he tells me. He also knows I'll give it to him straight, give him my honest opinion if I think he's dead wrong or has his head up his ass about something.
We talked about some of the missions that have gone wrong, crew he's lost and patients I've lost. He tried to tell me none of the patients I've lost were my fault and I tried to tell him he wasn't at fault for the crewmembers who died on away missions. Neither of us believed the other, but somehow it helped anyway.
He also told me about some of the clashes he's had with Starfleet brass over the past several months. Quite a few of the admirals think that he's too young and brash, too arrogant and impulsive to be a starship captain. They actually think he got lucky when he saved the earth.
Lucky.
Unbelievable morons, each and every one of them. Jim's the most brilliant person I've ever met, bar none, and yeah, that includes Chris. His intelligence is so far beyond most people's that it looks like he's pulling answers and ideas out of his ass, but he's not. He's pulling together thousands of pieces of information -- the kid absorbs absolutely
everything
-- he's correlating data, finding patterns where no one else would, and coming up with conclusions that are nothing short of genius. I have no doubt that one day he'll be recognized as the finest captain that Starfleet ever produced. He's going to be in the history texts. But right now, these shortsighted idiots are trying to clip his wings. Why can't they see that with the Federation as weak as it is now, we need bold, decisive leaders, not the same dithering idiots who got us into this mess?
Anyway, Jim didn't say so in so many words, but I know it's been much harder for him these last several months because he's felt like he can't go to Chris for help with this bullshit. I don't know what to tell him about that. I did tell him that I have confidence that no matter what crap they throw at him, he's going to come through with flying colors and make them look like incompetent fools in the process. He grinned at that and damn, that felt good.
We even talked some about Chris -- not about the stuff with Elliott, just about the engagement, and vague ideas for the wedding, and he gave me the third degree to make sure I was really happy with Chris and that Chris was treating me right. He made me promise to never tell him anything about our sex life, not that I would have anyway. We talked until late at night -- well, technically, early in the morning, and when we were both yawning and could barely keep our eyes open, we said goodnight. He clapped me on the shoulder and said "I've missed you, Bones." I said, "Yeah, see if you're still singing the same tune next time you need a hypospray," but I think my smile gave me away.
We slept in late -- until about 1000 hours. Then we had breakfast. I made vegetable omelets, hashbrowns, and pancakes, and I made sure Jim ate plenty of everything. He said I was trying to fatten him up so the chicks wouldn't dig him. Yeah, that'll be the day. Whenever he's under stress his hunger mechanism just shuts off. Given his job, that pretty much guarantees that he's never going to have a problem with his weight -- well, not with being overweight, anyway. Right now he's still skinnier than I'd like.
Anyway, Chris has got to be pretty damn uncomfortable right now, waiting for my response to his comms, so I'll write him back and put him out of his misery. Then I'm going to shut off my comm unit and go for a hike with Jim. This time is supposed to be about me and him, not my neverending issues with Chris, and not Dr. Elliott, may she suffer a massive breakout of Bolian fire-warts.
To: Christopher Pike (cpike@starfleet.gov)
From: Leonard McCoy (lmccoy@starfleet.gov)
Dear Chris,
Look, I don't want to fight. We've only got a few more days together and I'd rather not spend them with us pissed off at each other. Talk to Elliott. Listen to the recording. Then we'll know and we won't have to speculate or argue about it.
I'm glad you talked to Richard and got good advice. I'm glad you're working on this stuff. Of course you have a heart, and no matter what it turns out happened, this shit with Jim was
not
your fault. If anything, it's mine because I should have put two and two together and realized that he started acting strange right after he talked to Elliott. Of course, he also should have told me what she said, and most of all, she shouldn't have said it in the first place. Don't take this on your shoulders, Chris.
I'll talk to you later. I love you.
Yours,
Len
Personal Journal of Christopher R. Pike
Friday 2260.187
I'm sitting in my quarters on Exeter right now. I just needed a little time to myself. I'm 'working' but taking a few minutes to get some thoughts out before I take Sato's or someone else's head off who doesn't deserve it.
I drank way too much last night. I haven't been that drunk in a long time. It didn't help that every time I looked at my ring today, it was green. A bright beautiful fucking green. Of course, that was a nice change of pace from the red I saw most of yesterday. I'll admit, I turned the ring around so all I could see was the band. It was too distracting in meetings.
Yes, it bothers me seeing that he's so happy with Jim. And it bothers me even more that I feel like that. I don't WANT to feel like that. I really don't know what to do. Right now, it's still green. I wonder what color mine shows when I feel like this. I'll have to ask him.
I had to take a minute and go outside and get some air at lunch after I read his last comm. Relief doesn't even begin to explain how I felt. I don't want to fight with him either, and didn't even realize I was starting one. But of course I was. I basically called Jim a liar and expected Len to side with me. And because he didn't, it only made it worse.
I meant what I said in my comm to him, though. I didn't mean to call Jim a liar. I really do feel like he has always bent whatever he hears to suit him. He was that way at the Academy. Always challenging, always twisting words and rules to work in his favor. The truth, though, is he doesn't miss a damn thing. He can repeat back exactly what someone says. I know this too. I just didn't want it to be true, and yes, I'll admit that part of me liked the fact that Len and Jim have been estranged a bit. The other part of me though -- Well, it makes me sick to my stomach.
Richard and I had about thirty minutes alone at lunch today and I told him how I'd epically screwed up again. He told me I needed to stop beating myself up over it. It takes time. He wouldn't tell me how much time it took him -- He told me it might be discouraging to me. But one thing he reiterated is that I
can
get over it. He suggested that I treat it like a mission plan. What would my strategy be? What can I do to prevent myself being an idiot? -- Well, that's probably not possible for the near future. He has a good point though about giving it time, and I need to remind myself that I'm relentless in making things work. If it means groveling at Len's feet, and even Jim's, well, I'll make sure I wear kneepads when I go to brunch with them on Sunday. I'll do whatever it takes.
I think I'm going to stay on the Exeter tonight. I'll sleep better with the hum of the ship, even in spacedock, than alone in our bed at home. I have meetings there first thing in the morning anyway. I'll comm Len and let him know he doesn't need to rush back. I'll see him at home late tomorrow afternoon.
Regardless, I'm going to cook a special dinner for him tomorrow night. I've already ordered everything I need and it will be delivered shortly after I arrive home. I'm certainly not going to let what could be our last few nights of shore leave together go to waste.
Leonard McCoy (lmccoy@starfleet.gov)
From: Christopher Pike (cpike@starfleet.gov)
Len,
You have no idea how relieved I was to get your comm. I'm not going to rehash it, because I don't want to fight either.
I'm on the Exeter right now. Meetings were hell at HQ today and I think I'm going to stay here tonight where I'll hopefully sleep better.
I have meetings scheduled until 1300 tomorrow, so you and Jim don't have to rush back. Spend another morning and afternoon there. I'll be back at our apartment about 1700. I've ordered groceries to make a special dinner and we'll talk.
I love you, and again, for what it's worth, I'm sorry.
Chris
To: Leonard McCoy (lmccoy@starfleet.gov)
From: Christopher Pike (cpike@starfleet.gov)
Len,
Dr. Elliott just commed me on the Exeter. She is off planet right now, but forwarded the authorization to her staff. She said we should have what we're asking for by midweek.
She did confirm to me -- Well, Jim was right. In fact, Jim may have even whitewashed it a bit for you. She's very adamant that she thinks Jim is 'poison' for our relationship. Honestly, I have to agree, in some ways, since a hell of a lot of our problems stem from my jealousy issues with Jim.
For the record, Len, I don't expect you to cut Jim out of your life. I don't want him out of mine either. I don't know what the answer is. I really don't. I want to believe that over time -- Hell, I don't even know what to say right now and I'm about to go into a meeting with my command crew.
I'm sorry, Len. I owe you and Jim -- Hell, there is no way I can make amends for this. If Jim never wants to speak to me again, I would completely understand. I'm just grateful you still are.
Love,
Chris
To: Christopher Pike (cpike@starfleet.gov)
From: Leonard McCoy (lmccoy@starfleet.gov)
Chris,
I'm -- well, I don't know if "glad" is the right word, but thanks for letting me know that Elliott confirmed what Jim said. And the fact that she called him "poison" -- I'm not sure I can explain to someone who's not in the profession what a serious breach of ethics that is. That she's got you agreeing with her is only one of the reasons that therapists aren't supposed to express opinions like that. Her job isn't to tell you, or anyone, what to think and feel, it's to help you figure out your own feelings and lead you to your own conclusions. She's in a position of power and influence over you as your therapist, whether it feels that way to you or not.
She's abused her power in a really goddamn serious way, Chris. And it's had a real, seriously negative effect on all three of us. That's
not
all right.
I also wanted to let you know that Jim knows you thought he was lying. He asked me flat out whether you believed his version of what happened with Elliott, and I wasn't going to lie to him. It hurt him, Chris. It hurt him a lot. Whether you can make make things right with him -- hell, I don't know.
I'll see you tomorrow.
Love,
Len
On to
Part 33